Narnia: a review.
f***ing awesome.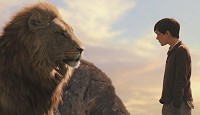 p.s apart from not mentioning 'a heavenly wind', the boy who played Edmond (above) was so so so Christopher.
p.p.s Dawn French makes a cute mother beaver voice-over, and Liam Neeson is a rad Aslan.
(Teehee, "rad")
p.p.p.s When they shot Mr. Tumnus (James McAvoy) in a midshot, he was kinda hot. For a fawn anyway. I think it was the rather lovely eyes he had.
p.p.p.p.s I never did like the scene when Aslan goes to the stone table, but I almost cried in this one. Overall there were lots of tingly moments in the film.
1:35 pm
| Post A Comment... >